M1070 Heavy Equipment Transporter (HET)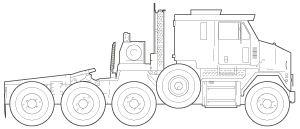 Mission
Transport, deploy, recover and evacuate combat-loaded main battle tanks and other heavy tracked and wheeled vehicles to and from the battlefield.
Description and Specifications
The Heavy Equipment Transport System (HETS) consists of the M1070 Truck Tractor and the M1000 Heavy Equipment Transporter Semi-trailer. The HETS transports payloads up to 70 tons ? primarily Abrams tanks. It operates on highways worldwide (with permits), secondary roads, and cross-country. The HETS has a number of features that significantly improve the mobility and overall performance of the system in a tactical environment. The M1070 tractor has front- and rear-axle steering, a central tire-inflation system, and cab space for six personnel to accommodate the two HETS operators and four tank crewmen. The M1000 semi-trailer has automatically steerable axels and a load-leveling hydraulic suspension.
Tractor Length:

   358 in

Tractor Width:

   102 in

Trailer Length:

   622 in

Trailer Width (at rear bumper):

   144.8 in

Tractor Curb Weight:

   41,000 lbs

Trailor Curb Weight:

   50,000 lbs

Payload:

   140,000 lbs

Engine:

   500 horsepower Detroit Diesel

Transmission:

   5-speed automatic

Speed:

   40-45 mph on highway (25-30 mph with 70 ton payload)

Range:

   300 mi

Fording:

   28 in

Air Transportability:

   C-5A and C-17
Entered Army Service: 1993
Manufacturer: Tractor (Oshkosh Truck - Oshkosh, WI), Semitrailer (Systems & Electronics, Inc - St Louis, MO)