M-9 Pistol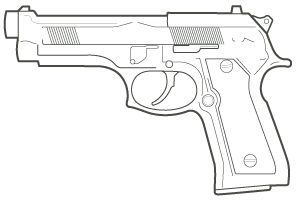 Mission
Deter, and if necessary, compel adversaries by enabling individuals and small units to engage targets with accurate, lethal, direct fire.
Description and Specifications
A semi-automatic, single-action / double-action pistol. The M9 is the primary sidearm of The U.S. military, replacing the .45 caliber model M1911A1. The M9 has a 15-round staggered magazine with a reversible magazine release button that can be positioned for either right- or left-handed shooters.
Caliber:

   9 mm

Length:

   217 mm

Barrel Length:

   125 mm

Weight:

   2.1 lbs (unloaded); 2.6 lbs (fully loaded)

Range:

   50 m
Entered Army Service: 1990
Manufacturer: Beretta USA